Project: YVR
The Sky Is Not The Limit for Peninsula Wall & Ceiling
The B.C. Wall and Ceiling Association (BCWCA) has awarded the Best Acoustics & Ceiling Project of 2019 to Peninsula Wall & Ceiling for its innovative work on part of the Pier D terminal building expansion at YVR, the Vancouver International Airport.
CLICK HERE to Read more
WINTER 2019 HR
Excellence in Workmanship. Peninsula Wall & Ceiling Meeting the Challenge
Peninsula Wall & Ceiling of Surrey, BC received the 2018 Best LMWCA Project Award for its work on two new state of-the-art luxury vehicle showrooms at 13460 Smallwood Place in the expansive Richmond Auto Mall.
CLICK HERE to read more
Awards of Excellence 2022 Silver Winner – BCIT Health Sciences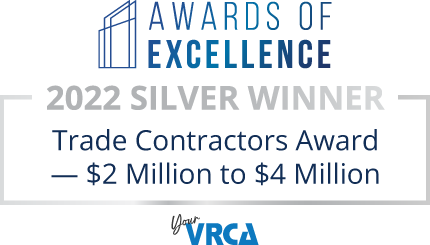 Best Reno/Retrofit Project- Park Royal, North Van 2018
Best LMWCA Project – Audi/Jaguar, Richmond 2018
Best LMWCA Project – YVR RSO Transborder Gates, Richmond 2019
Suspended Ceiling, Hard Rock Casino, Coquitlam, 2014
Our satisfied and repeat customers include: